Easy or busy? That is the question. How do you like your layouts to look, digiscrapping-wise? I personally love both. I just can't limit myself to any one style. Yeah.. I'm quite promiscuous when it comes to designing. LOL
Over the years I've noticed that a lot of those who love C&S (clean and simple) style don't usually wander far from it. In similar fashion, those who marvel at busy layouts seldom scrap anything without clusters either. I might be of a rare breed as I'm inspired by both groups and always enjoy stalking galleries of these amazing scrappers.
And that's one great thing about being in
Dunia Designs
' Creative Team. She is a C&S scrapper herself so she always releases amazing templates in that style. On the other hand, she designs perfect kits for those who love lots and lots of busy elements on their pages. Result? She's got a great group of scrappers of all styles working for her and together they are truly a bottomless pit of inspiration for me.
**********
So, layouts I have to show today are of course from Dunia's creations. Some looks easy (though none really are) and some busy. (Didn't I tell you how promiscuous I am? LOL) Hope you like them!

I'll start with the most recent ones.
You can click
here
and
here
to see these double pagers in bigger size. They are created with Dunia's
Album - Set 1
templates (available at
MS
and
DSB
) which had me screaming at first sight. :) I'm planning to use the whole set to create the family calendar for 2012.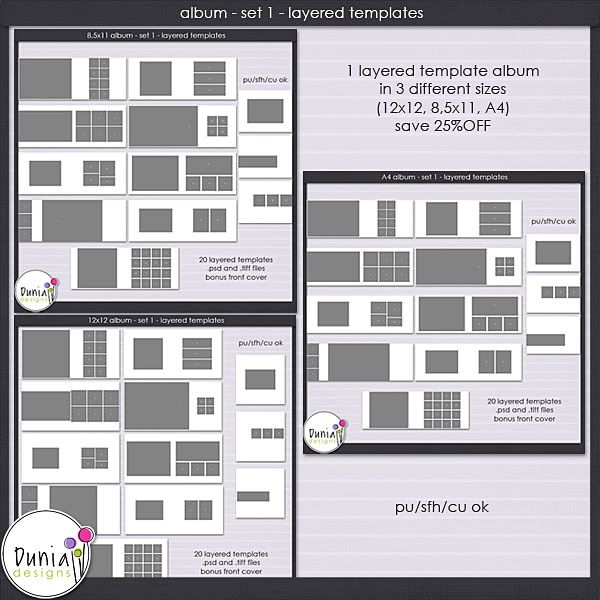 ***********
Now this one is pretty special. I don't scrap my husband that often (well I'm quite shy to be so openly lovey-dovey LOL) but when I got an idea to do a white-space layout with very little journaling, I know this is the theme and photo for it.
The kits used are
Better Together
and
Alphabet Soup: Boyish
.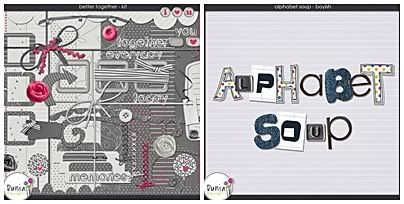 *******************
The next two pages were created in June. (I know. I know. I should blog more regularly.) Both got mentioned in MScrap's
June GSO thread
. And both tell the story of the day
Ella
's family came to visit us in Bangkok. :)
Are you still hanging in there? :) Sorry for this being an image-heavy post. Next time it should be better as I've cleared the backlog with this one. ;)
So, to thank you for sticking around to the end of the long post, here's a word-art pack for you. I created them over a period of time for my own layouts then put them together as a prize for a challenge I hosted last year. Only about a dozen people have them so far and I'm sure they don't mind I'm giving the pack away as freebie now.
Please click on the preview to
download
. I hope you like it. :) Enjoy!!