Such a great time of year to be scrapping, don't you think? Greens and reds everywhere! I find it a very refreshing change from months of fall/autumn colors. Love it!

I've been playing with some greens and reds myself. My ever-busy friend Rachelle's new Christmas kit will be in the shops very soon while she's still having a great time putting together all DIY crafts for her friend's coming wedding. (You can go to her blog and see for yourself why so many people are ooh'ing and aah'ing over Rach's hybrid stuff!) I should be able to show you the layout I make from her kit next week!

But I can show you this now, with a bit of good news for myself. I've been promoted! :) Dúnia asked me to stay on as her permanent CT, not just guesting anymore!! Yayyy!! I'm so excited and flattered and honored, all at the same time. So I made a layout as a thank-you gift for her and her son Yuri, using her new and fabulous collab kit with Loreta Labarca "Christmas Wishes" (available at DSB and ZZ.)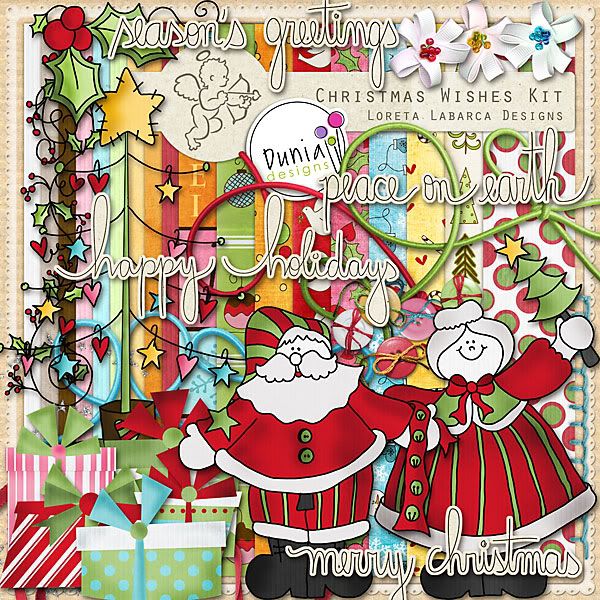 Here's my LO, called "Wish List?"



(Please click on image for bigger view) A gift for Dúnia and her son Yuri

Credits: All from Christmas Wishes collab kit by Dunia Designs and Loreta Labarca


* * * * *

I'll be out of town for about 3-4 days. My son Neill is in his school's running team and he has to participate in an inter-school sports tournament. (He's not fast, but -- like everything he does –- once he decided he's gonna be on the team, he puts his mind to it. For me, I'm happy already that he gets to exercise regularly.)It will be a 6-hour drive so I'd better be in bed soon.

I really hope Neill does well at the competition. He's been practicing hard for it.

(Please forgive me for those blurry and grainy pics. Hubby has promised me a DSLR camera for new year's gift. I can't wait to play with that!!)

How do you like the cut-and-insert frame effect for the pictures? Those are not blogger's or Live Writer's new function. I made them for a layout and think others might find them useful too. I'll be sharing them here when we come back from the tournament. :)


XOXO!