I took a 5 month scrapping (and blogging) break and coming back to it again isn't easy at all! It's quite a struggle actually. :) Well, however, you know what they say about riding a bike, right? Just take a few falls and you should be fine. Keep your fingers crossed for me please!
The first few pages I created after my "comeback" were for Anita of Designs by Anita. I love the cool, calm, and collectedness of her products, they absolutely make me feel more cool-headed than I usually am. LOL So here they are:

This first one is about the day Ella, my French digi-scrap friend, and her family were visiting us in Bangkok. It even earns me a mention in the Gallery Standouts blog! Woohoo!

Journaling reads:
@ Wat Arun (the Temple of Dawn) with Ella's family - Feb 11, 2011
For almost 2 years, we talked in forums, enjoying each other's art.
Then came the day we finally met in person.
It definitely was a day to remember.
Credits:
Manic Monday - collab kit of Designs by Anita and Click Photo Designs Lien
(in Something Everyday bundle)
Then there's this layout created for a photography challenge at MScraps. You actually don't have to scrap the whole page for the challenge but I just couldn't help it. The picture begs to be scrapped! ;)

This 2,000-year-old port on the Mediterranean Sea is just a short drive from Beirut.
Neill, Michael, and Papa hiked up and down the ruins tirelessly
while Mama brought up the rear snapping away.
On that small path, with the modern Beirut as backdrop,
it's almost like taking a journey through time from the past to the future!
Chirping Birds - collab kit from Designs by Anita and Sabrina's Creations
From Unique kit of Designs by Anita at
Zig Zag Scrap
Good news! If you like this page, you can have it as a quickpage for FREE. Just visit Anita's blog
here
to download.
* * * * *

And this last one was created with a very special kit. As Anita is the Featured Designer at MScraps this month, she has created the kit A Day at the Beach especially for the occasion. Throughout July only, purchase more than $5 of Anita's products and you will get this fun summer kit for FREE!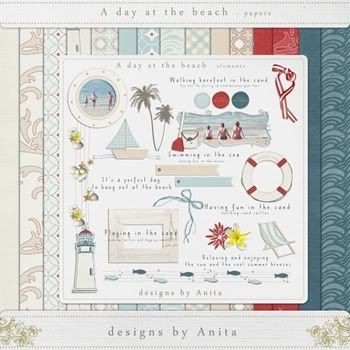 Here's my page with the kit. Just wanna try to do a bold and busy page for a change. ;)




And here's a little something for you. Just to say thanks for visiting me again after my long break. You can click on the preview to download or just click here.



Enjoy the template and please let me know if you like it! :)

More to come very soon. Stay tuned!