I definitely didn't plan it but when I looked at all the layouts I want to show you today, I realized they were all created with prompts from challenges!
What I love the most about challenges is how they push your creative boundaries. You get to do what you might not normally choose to do, try new techniques, and sometimes even explore some of your own buried feelings. I'd recommend it if you haven't tried yet.
I've totally enjoyed the challenges at
MScraps forum
where I hang out the most these days. They are creative and challenging (as challenges should be), and the sample layouts from the site CT's are very inspiring. Oh, and of course, the points that you can collect toward $ to use in the store are quite nice too. ;)
...................
Did you happen to notice the tweet button on the right side of the blog? Hehe...yep, I'm using
twitter
now. In my twitter page I use this layout as background.
I created this LO for an About Me challenge in the theme "Phobia" and that means heights for me. It was a long process thinking, planning, and executing the page, which is why I just love how it came out looking so simple and easy. The ladies at MScraps gave me so many
encouraging comments
!! TYSM!
(The city silhouette is inspired by Famous City Skyline brushes by Rawox and Balloon girl modified from a brush by xCassiex24. Thank you both!)

Just 2 days later I created another page for the Photography challenge: reflections. Mine was taken on our short train ride 2 years ago. It shows not one but two reflections! One on the magnifying glass and one in my son Neill's eyes, and I just love how I can see myself in his eyes!
The page went on to earn a mention in the
Gallery Standouts blog
! I was so excited!!!
Both pages above were created with this beautiful kit:
Little Discoverer
of Designs by Anita.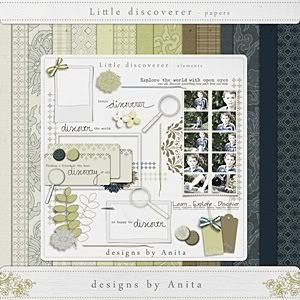 ...................
For this month (July) I have 2 challenge layouts to show. :)
This first one I made for the Recipe Challenge. Not food but scrapping recipe - with a certain amount of photos, papers, fasteners, lines, circles, etc. you have to put in. Not easy at all but so much fun!!!
Journaling reads: Neill isn't normally allowed to play with toy guns.
I let him have this one because it hasn't got a trigger
and there're no dangerous parts that can become loose.
It can make a heck of a noise though.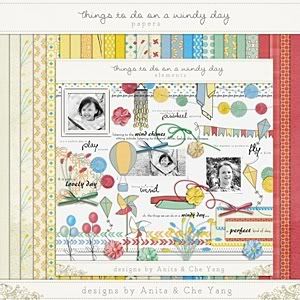 ...................
And the most recent one is another About Me challenge. This time it's about what you dislike about yourself. Oh boy. I have to say, when it's done, I felt so drained and naked! LOL
Journaling reads: I'll admit it
there are times when I am not too happy with the fact that I'm
NOT so young, wild, or free anymore.
I haven't totally come to terms with it yet.
But I know I'll get there ... one day.
From kit Young, Wild, and Free of Designs by Anita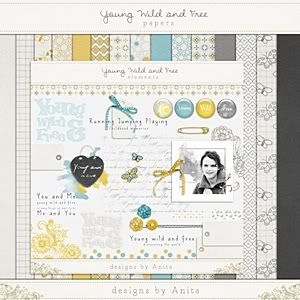 ...................
Now a little bit of news!
Two Little Pixels is closing shop so
all Anita's products there
, including the ones you see here, are now on sale at
35% off!
This is only until August 5 so hurry up!!
...................
Congrats! You've survived the loooong post. Here's a present for you. As I said, I spent a lot of time planning, drawing, cutting and piercing those digi papers to make the layout so I think, well, maybe you can find some use for it! :D Here's
the download link
if you're interested:
Just a little reminder here: this template is for
Personal Use and NOT for any promotional purposes.
So, please refer to the TOU when using. :) Thank you so much! Please let me know if you do make something with this. I would really love to see your art. :)