Nobody can tell anymore what color my car is
exactly
. :D Since it's been raining cats and dogs almost everyday here in Bangkok, I've decided to forego the pointless act of washing the car altogether. (Or at least until my son can't take it any longer and has to wash it himself. LOL)
Well, when it's not raining, it's just so darn hot here. I guess it's the perfect reason to be in an air-conditioned room and do some scrapping! I'm so in love with a lot of scrapbooking kits coming out right now. The bright summer colors certainly liven up galleries that it's such a joy to browse around.
Anyway, in the midst of sun and rain, I created a few double page layouts I'd like to share here. :)
P.S. Just notice that I put "Summer Rain" on the title! Love
the song
! Love you, Mr. Schue!
* * * * *
We went to South Africa in April to visit Ouma and Oupa (my mother- and father-in-law) and had such a great time there. I took a whole bunch of pictures from the trip which you'll definitely see later in my layouts. This one is about their new dog, Muffin, whom Neill created an amazing bond with...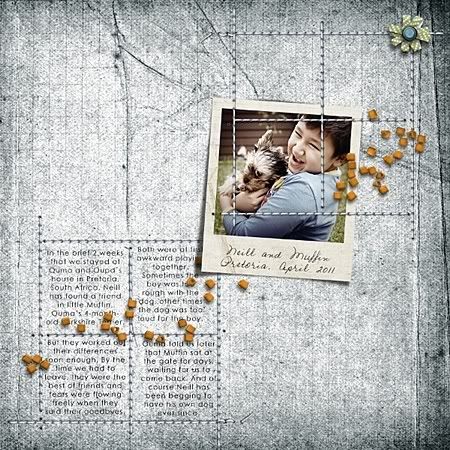 Journaling reads:
In the brief 2 weeks that we stayed at Ouma and Oupa's house in Pretoria, South Africa, Neill has found a friend in little Muffin, Ouma's 4-month-old Yorkshire Terrier.
Both were at first awkward playing together. Sometimes the boy was too rough with the dog, other times the dog was too loud for the boy.
But they worked out their differences soon enough. By the time we had to leave, they were the best of friends and tears were flowing freely when they said their goodbyes.
Ouma told us later that Muffin sat at the gate for days, waiting for us to come back. And, of course, Neill has been begging to have his own dog ever since.
Credits:
* * * * *

Val (Val C. Designs) and Terese (T for Me Designs) have teamed up to create this lovely kit called Summer Party.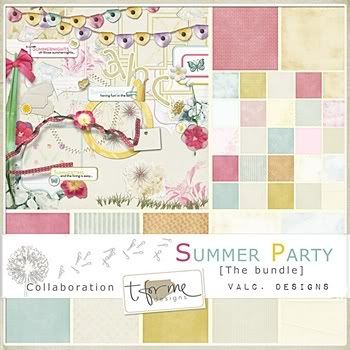 They've also come up with a fun challenge with loads of freebies (add-on from both designers plus 2 word art sets in English and French) for us all to play with
and prizes to win.
I had soooo much fun creating my double page layout for the kit and the challenge. :)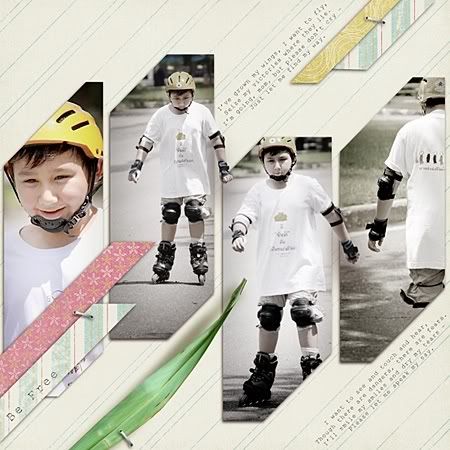 Come to the party at Zig Zag Scrap and
join the challenge here
!
I'll be back in a few days with my own template freebie. ;)