Happy Thanksgiving! For those who celebrate the fabulous holiday, of course. We don't celebrate it here in Thailand but I always love spirit and the idea of being grateful for what we have.

The concept actually applies to Buddhist teachings as well. To be satisfied, grateful, and know what is "just enough" for you, that equals to letting go of greed. Isn't that wonderful? Wouldn't it bring a little peace to the chaotic world? (A little pageant-y for me but what the heck. LOL!)

* * * * *

I'm running a little late at everything. (When am I not that? Umm............ Let me think.............. Still thinking............) So I'll just leave you a couple of ads here. Hope they are useful for those who are shopping for holidays!!! All images are linked to corrensponding stores.

Oh! First, some good news!!!!

I am very lucky to be chosen as this week's Featured Scrapper at MScraps.



I would really LOVE IT and LOVE YOU if you ladies can visit the thread and
play with the challenge
! It's easy! You just have to visit my gallery at MScraps and lift one of my layouts using at least 75% of MS products. I'm the last one for November so, with holiday preparations and stuff, there might not be a lot of participants. It can be a bit lonely there. Keep me company, pretty please.........? ;)
* * * * *
Now, the second good news!
Val C. Designs
asked if I wanted to join her CT and I said yes!!! I have always loved Val's beautiful kits and she's sooooooooo sweet and one of the most generous designers out there. So it's such a pleasure to be working with her again.
She just opened
her store at Zig Zag Scrap
recently and now some of her fabulous products are on sale during the Black Friday! Go shop!
* * * * *
At MScraps,
Anita
and
Dunia
are also having some sales of their kits. Dunia has 3 new products on sale for 20% off during the weekend, while Anita's shop is 30% off!

* * * * *
Gotta end with this bittersweet news.
Designs by Doodelle
(Rachelle) is closing
her shop at MScraps
. She'll be starting at a new store next month. From now until the end of the month, though, you have a chance to pick up her stuff at MScraps at a very looooow price! Some of the old kits will be retired forever so, seriously, don't miss the chance at owning some vintage Doodelle before it's gone for good!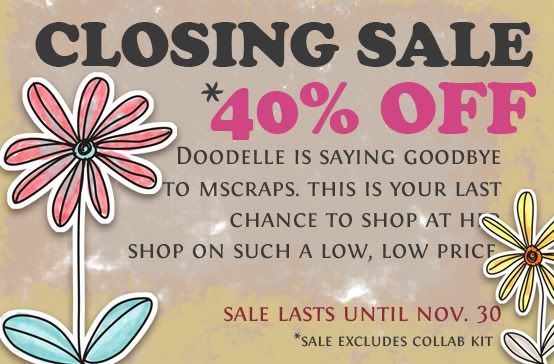 I have a big bunch of new layouts for ALL the designers I CT for that haven't been shown here yet. That will have to wait until next time, though. See ya soon! Now enjoy your shopping!!!!!